Founded in 2016 – Sanderson Vet started as a mobile veterinary service throughout the North West and aim to provide the highest standards of care and services at clients homes.
Services included vaccinations, treatment of sick animals, blood testing, blood pressure, tonometry and end of life care.
In July 2017 we opened the hub in Heswall, Wirral offering operating theatre and hospital facilities, diagnostic imaging, dental facilities and in-house laboratory services.
This allowed Richard and the team to fulfil the aim of offering routine and specialist procedures in general practice and be accessible to all.
In October 2018 our in-clinic service was launched offered 20 minute standard appointments designed to be conducted in a stress free environment for animals and their owners.
Sanderson Vet offer a 7 day a week service with home visits and in-clinic appointments with our team of vets and veterinary nurses.
Since the first day the practice has been 24/7 dealing with our own emergency cases as we believe this facilitates the highest standard of veterinary care ensuring your pet is always seen by your own practice with full access to their clinical records.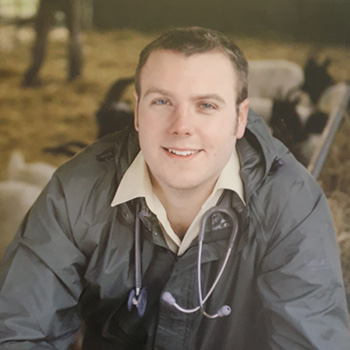 Richard, Clinical Lead
Graduated in 2009 from University of Liverpool and established the practice in 2016.
Holds the RCVS certificate in Advanced Veterinary Practice (certAVP) and is one of the practice OV's (travel documents etc). Currently completing his Advanced Certificate in Soft Tissue Surgery and interests include dermatology, oncology and critical care. One of our VetGDP team for mentoring new graduates.
Hobbies include his beloved Wolves FC and computer games!
Luke
Graduated in 2012 from RVC, London. Certificate holder in Small Animal Surgery (GPcertSAS). Interests include complex soft tissue and orthopaedics. Hobbies include sailing, walking his Viszla in the hills of Scotland and brewing his own beer.
Claire
Originally from Blackburn Claire graduated in 2019 from The University of Liverpool. With interests in emergency care she really enjoys the caseload we see. A football fan, she follows Blackburn Rovers FC and enjoys drinking real ale with her friends.
Joe
Originally from Lincolnshire Joe graduated in 2020 from the University of Liverpool. One of the practice OV's (travel documents etc) and one of our laparoscopic (keyhole) surgeons. An avid rock-climber and computer game enthusiast, Joe also enjoys skiing and is a very good horse rider!
Sophie
Graduated in 2021 from The University of Liverpool and joined us after a spell working in Cheshire. A Wirral local Sophie has interests in medicine and imaging. Her hobbies include socialising with friends.
Charlie
Originally from Oswestry Charlie graduated in 2022 from The University of Liverpool. His main interests include ophthalmology and cardiology. He worked in the practice as a nursing assistant during Covid and his main hobbies include computer games and socialising with friends.
Chloe
Another Wirral local Chloe graduated in 2022 from The University of Bristol. Chloe enjoys horse riding and travelling, making time during her studies to travel abroad to help neuter stray animals.